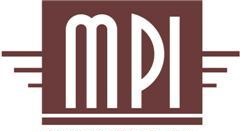 MPI pH-Meter
Topeka, Kansas USA
Tel. 785-266-9328
Email: meatprobes@gmail.com
MPI pH-Meter Specifications

How could a meat packer benefit from monitoring ultimate pH in fresh pork?

Fresh pork export buyers use ultimate pH level of 5.7 as a cutoff, why? According to PIC literature, the highest quality fresh pork is in the pH range of 5.7 to 6.0

Prime, Organic, or natural Pork Programs
How can you guarantee better taste, better appearance and better juiciness?
It's the pH, stupid.

Higher pH → higher quality
Fresh pork with higher ultimate pH values (5.7 and above) is typically higher quality. In the display cooler, fresh product will have darker color and less water (purge). Cooked product is more juicy, more tender and has better flavor.

Higher pH → higher Yield
Using pH measurements to sort cooked smoked ham can increase the finished yield by 1-2% according to research conducted by PIC North America.

Animal welfare - use pH data to demonstrate adequate animal handling to auditors and customers. Why pH?

About MPI

The MPI pH-Meter is Made in America.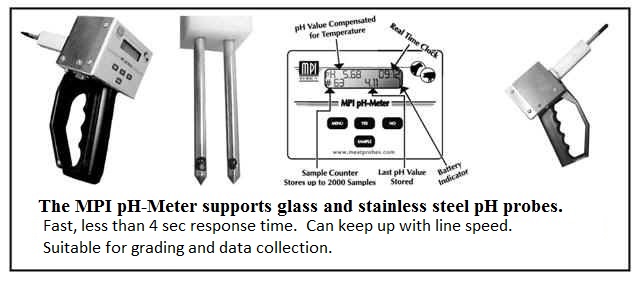 "The MPI pH units are uniquely designed and engineered ... MPI's customer service has been stellar, prompt, courteous, and helpful." Prof. Hunt, KSU Meat Chemistry Lab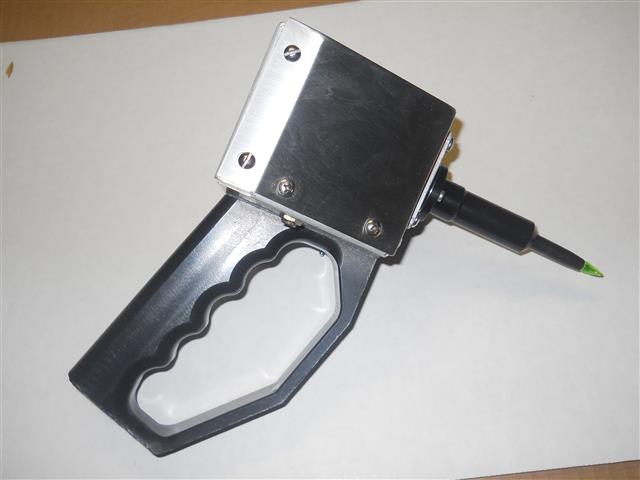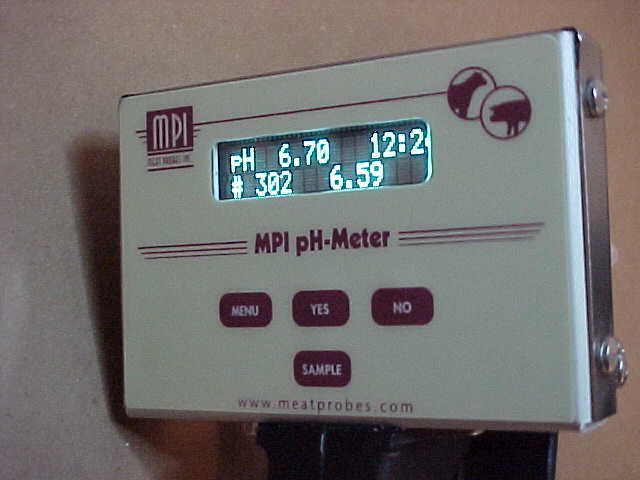 MPI pH-Meter with stainless steel pH probes VIDEO

"In my experience in Australia, you could not find a pH meter like the MPI meter. The meters we previously had, and others we tried, were not nearly as reliable and efficient, especially when collecting measurements in the chiller." Ryan Person – Industry consultant